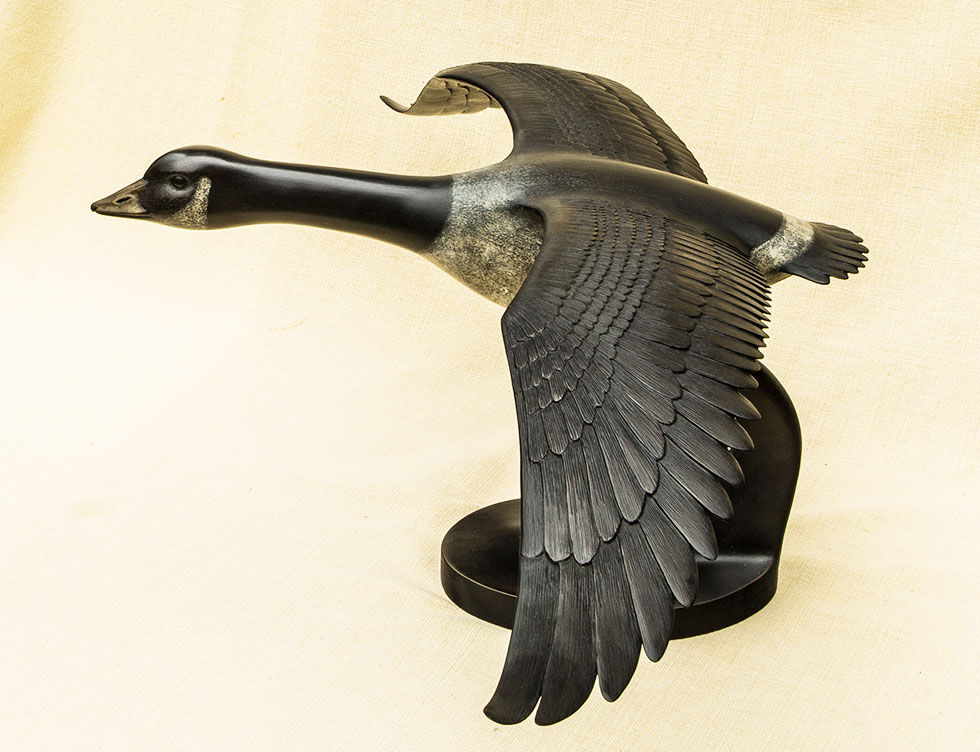 One of a limited edition marketed in partnership with the National Audubon Society, this half-life-size bronze was the first in a series of artworks created to raise funds specifically for the protection/preservation of wetlands.
The original image was modeled and rendered directly from Don's field observations, photos, and drawings. Cast in silicon bronze – the hardest and most durable of fine art casting bronzes – the goose weighs approximately 22 pounds.
The sculpture and integrated base were both cast using the "lost wax" (or cire perdu in French) process, allowing for the greatest autographic quality. The translucent, multi-hued patina was painstakingly applied by hand to replicate the characteristic markings. The final step was the working in of a fine quality wax to protect the sculpture from climatic changes and oxidation while giving the patina its unique translucency.
The edition is distinguished by the handwork each bronze received. The hand chasing and application of patina provide fidelity to the original model, and subtle creative nuances found only in works finished completely by the artist. Each bronze is numbered, signed by Donald Perdue, and bears the foundry mark.
Bronze casting – lost wax (cire perdu) bronze with hot patina finish, a/p, editioned @ Tallix Foundry in 1987-­88,
12-1/2" H x 34" W x 16" D
by sculptor Donald Perdue, © 1987